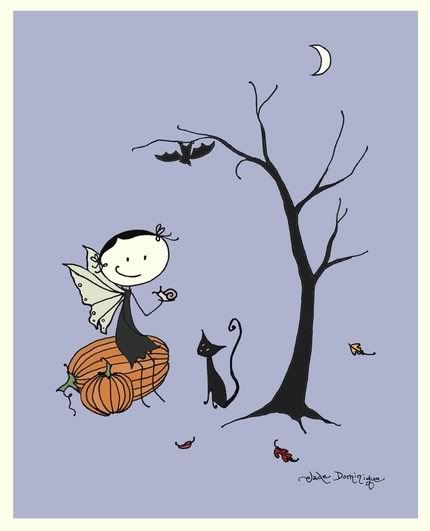 "Not just for halloween... bats, black cats, and dead trees can be your pals year-round." - Jade Dominique
Stick Nymph
has a unique, stick-figure style that you can find on greeting cards, prints, note cards and more. I am intrigued by the simplicity and detail in her style. The little nymphs are humorous, mysterious and adventurous! Owner of
Stick Nymph
writes...
"I draw stick people. I have been illustrating greeting cards with stick faeries, stick mermaids, vintage looking stickpeople, all of their accoutrements, animal friends and furniture for quite a while now. It is one of my favorite things to do."

"Things that make me visually happy are: Bats, seashells, buttons, giant ric-rac, clocks, tea wares, ribbon, scraped-up wallaper, picture frames with overlapping sticks for corners, cuckoo clocks, vintage lamps, tiny elaborate containers, acorns, old books, vintage lithographs, chairs with personality, flowers, the silvery-pink color of the street right before a summer rainstorm, turkey vultures, mushrooms, parts of old fences, iron nails, mary jane shoes, interesting purses, circus hosiery, old houses, cicadas etc..."
She has prints for all occasions... check out
Stick Nymph
today!