It seems that these days the trend for overhead lighting is fairly boring... many dining rooms resort to a neutral, modernized version of the chandelier, and that's sad. I am very much in favor of the elegance that chandeliers can bring to a room. - Any room for that matter, a master bath, bedroom, studio. ;) I just love the POP of drama and beautiful lighting that illuminates from them. They are expressive and becoming more and more colorful! This "Maura Daniel Mimi 3 Light Chandelier in Turquoise & Gold" is one of my favorites from the wide selection offered at
LayLa Grayce.
The gold and turquoise color palette highlighted with clear glass beads is just perfect. It's a blend of classic and chic.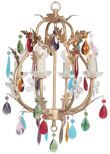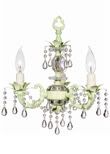 "Love Your Life. Express Your Style."