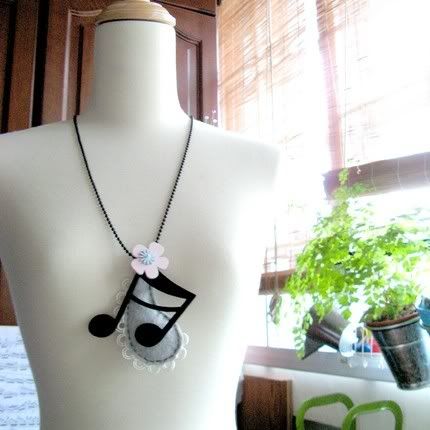 Aren't these necklaces fun!? They are by
Shup(G),
and they aren't your ordinary charm necklace! They feature oversized, spunky yet dainty dangles made of a variety of materials. 


Owner, Lydia, writes...
"I'm inspired by Dogs. Books. Green leafy plants. Ranuculus flowers. retro clocks with big numbers. peonies. jazz. classical music. gyspy music. caravans. view of the world zipping past outside the bus on a rainy day (look beyond eye level, look upwards for a whole bus trip, what you see may just surprise you!). window sills..."
This is exactly the style jewelry I am loving these days... especially for Fall, these necklaces would look great over chunky sweaters or with colorful layers. They would bring an artsy flair to those boring shirts you never wear that are buried in your closet! How simple, just toss one of these necklaces on to make your fashion statement.


Shup(G)
also sells: brooches, rings, earrings and "other fun things!" Be sure to
browse
for a piece that inspires you!