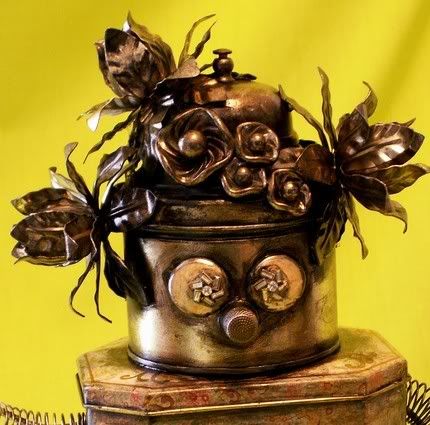 This sculpture is amazing! It is
"reclamation art"
using at least 80% recycled materials in each sculpture. Materials used were: tea tins, salt and pepper shakers, tray, candle holders, vintage buttons, springs, wire and rhinestones. Artist, Will Wagenaar, describes his character as...
"FLORA" is a big girl that really likes flowers. Her dress and her hat carry out her favorite fashion theme." He requests,

"Please adopt this fashion victim!"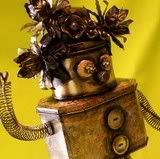 Reclaim2Fame
has a great collection of reclamation art sculptures to choose from, this one was my favorite. I love the funky robot's style and antiqued look. The little details are perfectly placed, decorating this sculpture to be a true one-of-a-kind! This sculpture is just the pizzaz that ANY computer desk or book shelf needs. It's clever, intricate and artsy!