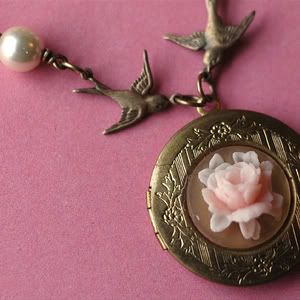 This "Together Locket" delicately depicts the concept of "togetherness." It is
"gorgeous, feminine & sweet."
The little birdies are the perfect symbol for "together." Wouldn't this make a beautiful anniversary gift from your sweetie? 
The locket has an... 

"Adjustable finish 16-21 inch hand wrapped chain of cream glass pearls in 8mm, oxidized brass, vintage brass locket with a pretty pink acrulic dimensional floral cameo set in it, held aloft by cooperating birdies. Locket is 28mm, cameo is 18mm. Finishes with brass ox lobster clasp on pearl-ended extender."