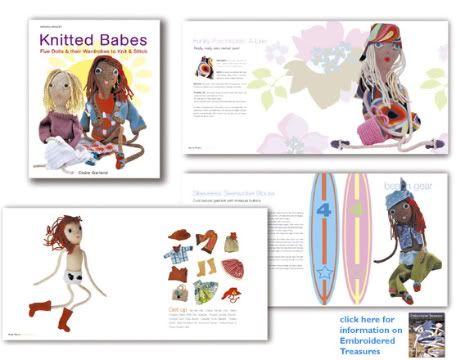 "Knitted Babes"
is a book of
"five dolls & their wardrobes to knit & stitch."
I am not a knitter but might need to learn or buy this book and have a sister or my Mom make me one! No matter what your age, you'll fall in love with these dolls' peculiar, sweet, little faces and adorable details!
"You won't be able to resist these knitted "retro rag dolls"—Dot Pebbles, Bunny Bright, Flo Tilly, DD Diva, or Rudy Ranch. Each comes with a wardrobe to make of handknit and handsewn trendy clothes. In this truly simple and easy-to-use technique book, knitters only need to know how to knit and purl; the practical knitting and sewing know-how section illustrates the simple stitches used to whip them up. Sewing templates to photocopy and use are included, along with knitting charts and advice on washing and caring for these dolls. The 130 fun photographs and the five sections devoted to creating each doll's identity and her fun clothes and accessories make this a book to treasure."

Checkout more about "Knitted Babes!"
and read more about author,
Claire Garland.
  Shop ALL of Claire's books here!