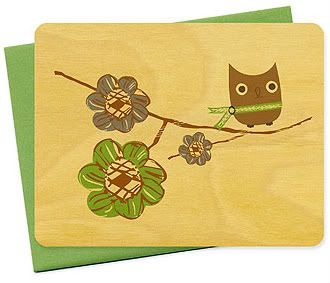 I'm a greeting card girl. I love giving them, getting them, even shopping for them! However, I always have the dilemma of where to save them. With
Night Owl Paper Goods'
wooden greeting cards, you won't want to file them away! Instead, set them on a little nicknack shelf to display!

Their wooden cards have adorable graphics in a modern style with simplified color. The cards feature friendly little woodsy characters and illustration on a background of REAL birch tree wood. The style is
"modern yet folksy."
They are "eco friendly" and definitely a new "green" product you must checkout!
Night Owl Paper Goods
sells a wide variety of eco-friendly greeting cards, stationery and notecards... as well as:
"wooden button cards", "journals & jotters"
and more. Visit
Night Owl Paper Goods
today, for an eco-friendly, artsy way to send greetings :)